A
A
A
itma
It had been some months since I had completed the restoration of my 1960 AJS Model 8 and I was starting to get bored again, I simply had to find something to occupy me.   I spent weeks browsing through various bike magazines and Ebay but nothing caught my fancy.   The problem was I didn't know what I wanted next.   One day I decided to go for a walk, so, suitably equipped for the rain I set off across the fields and down the local lanes.   I was close to returning home, when I heard a sound like an angry wasp, and around the corner and into sight came a Mist Green Bantam....that was it; I had to restore a Bantam.  
I found what I was looking for in August 2011 about 3 weeks later a trip to Walsall was undertaken and a D1 was mine.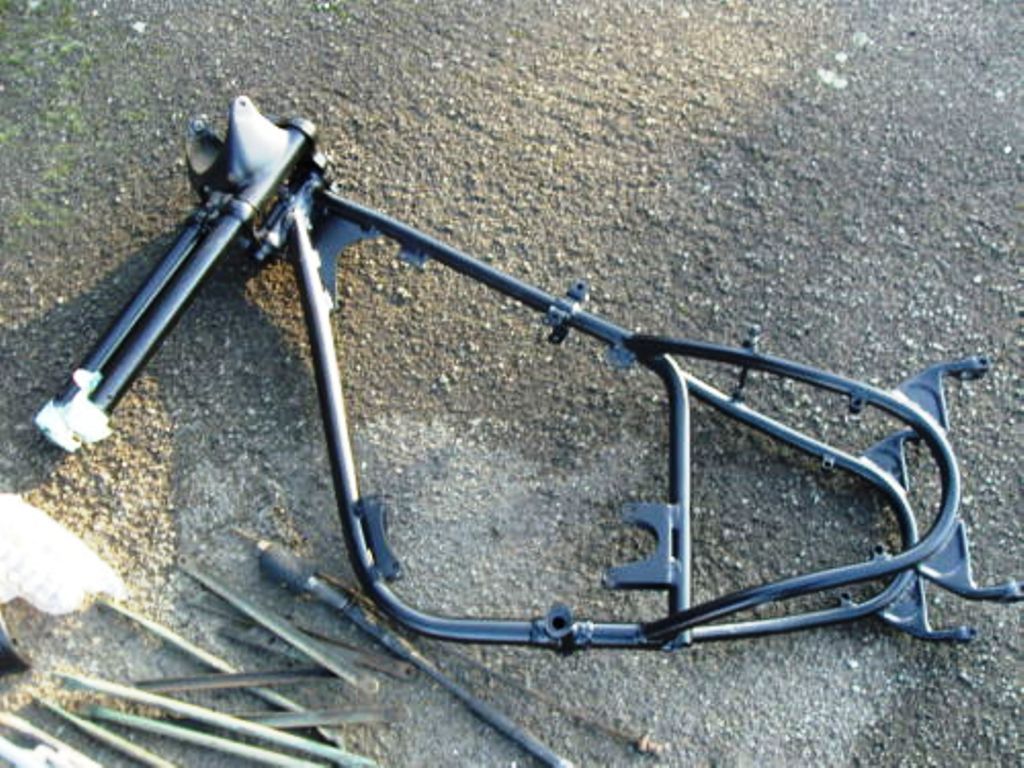 As you can see, someone had also decided that the little Bantam needed restoring but had given up.  You will have noticed the headlamp shroud is upside down but, can you see that the down tube is bent?
I only discovered this when I unloaded on returning home and of course the seller denied any knowledge of the damage.   A telephone call to Maidstone Motoliner confirmed they could sort it, the cost, £200!  
Having sorted out all the bits I was pleasantly surprised to find most of the tin ware was there, only small things like headlamp rim, footrest rod, and front number plate were missing.
I decided to start with the engine.  A quick look at the barrel and it was clear it would need a rebore.  The existing piston was the original; it had BSA cast inside the skirt.  A trip to my local engineering shop confirmed that 20 thou would sort it, and so I started looking for a piston.  By chance, that weekend, I found someone on Ebay selling an unused +20 D1 Hepolite piston, I quickly bought it.
While the barrel was away being rebored I decided to dismantle the crankcase/gearbox unit.  When I removed the crankshaft from the crankcase I found the stuffer plate had detached itself from the crankshaft but fortunately hadn't done any damage, I would replace it later using a pin punch to peen the edges over to keep it in place.   Once everything was apart I sent the alloy parts away for vapour blasting. By the time they came back I had collected the barrel; new bearings, oil seals and gaskets and a few hours work and the engine was ready.
The next challenge was to find the right paint; I telephoned T&G to be told they don't sell it anymore, so, I decided to contact a company in High Wycombe called Colour Match.  A trip to them with a toolbox in hand as a paint sample and I walked away with a tin of paint as close as we could get to the original Mist Green, also, a tin of cream for the tank side and a small tin of red for the coachline.
The next stage was to get the entire tin ware and frame bead blasted ready for painting; this was done by a local company who'd done work for me on the AJS.   I collected it some days later and immediately took it to the paint shop (I didn't want it exposed to the elements any longer than necessary).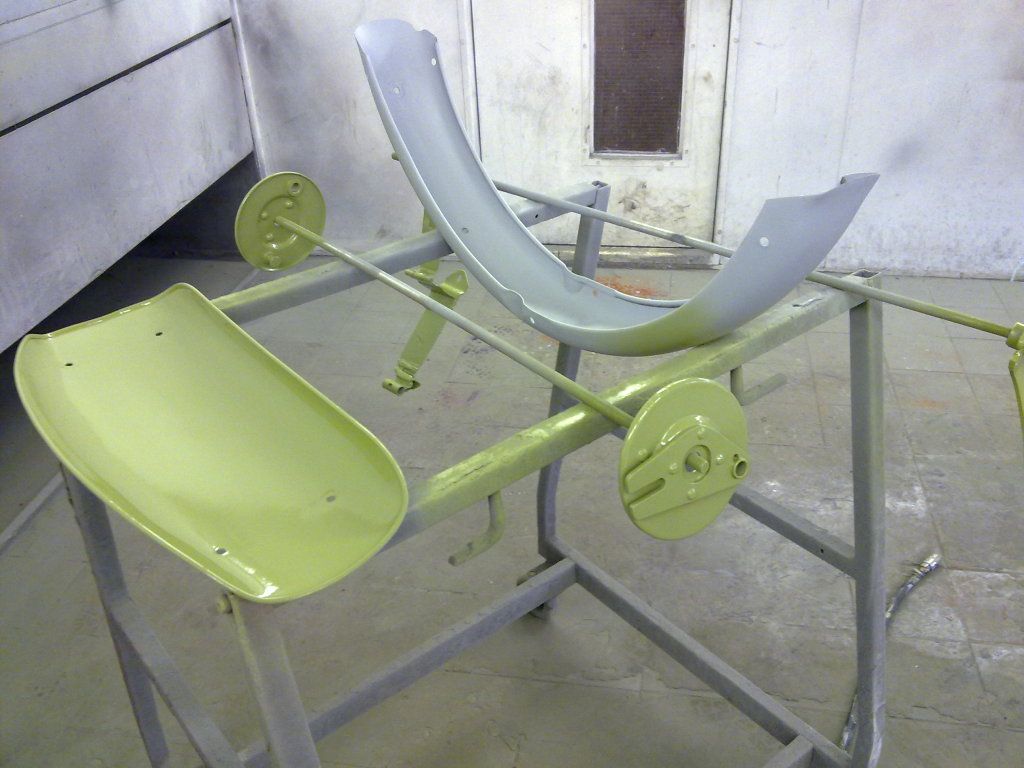 Two weeks later and it starts to take shape.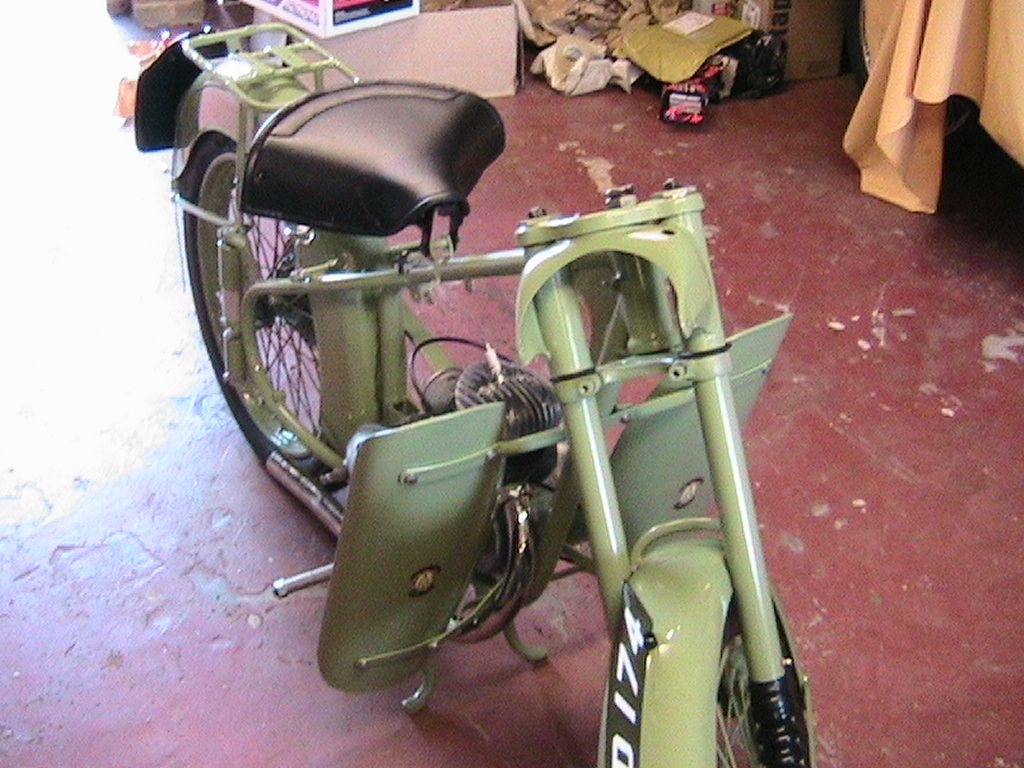 Now it really starts to look like a Bantam.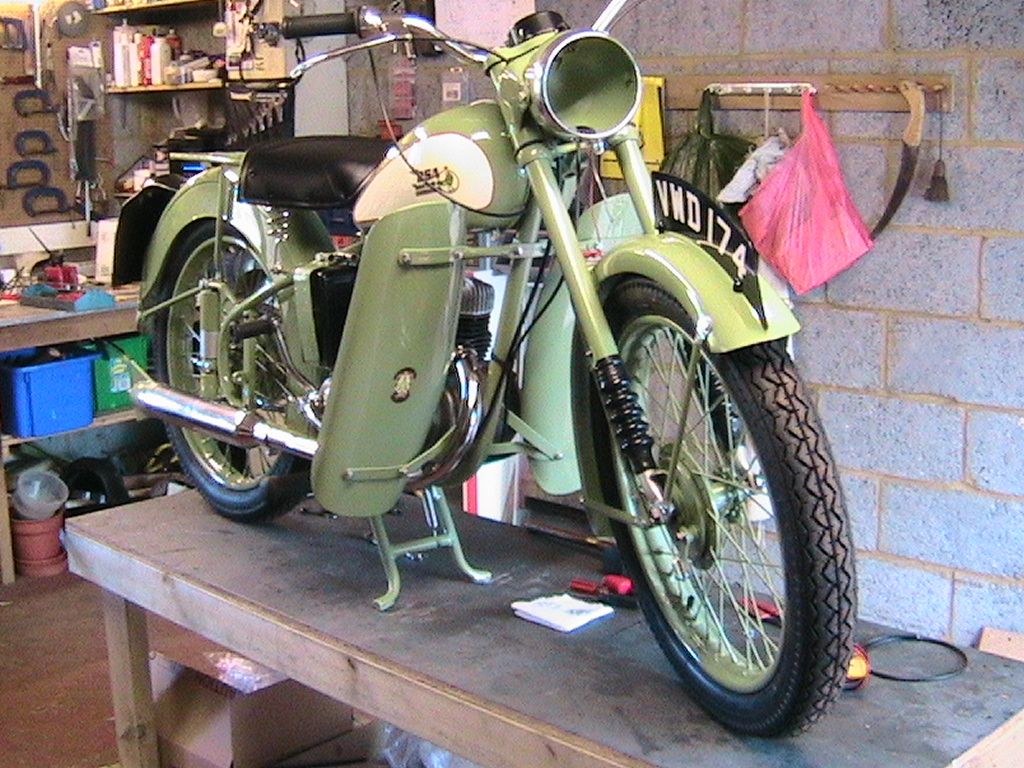 In March 2012 I finally rolled it out of the garage. A week later it passed its first and probably last MOT.  It rides well and the only niggling problem has been that the carburettor floods occasionally.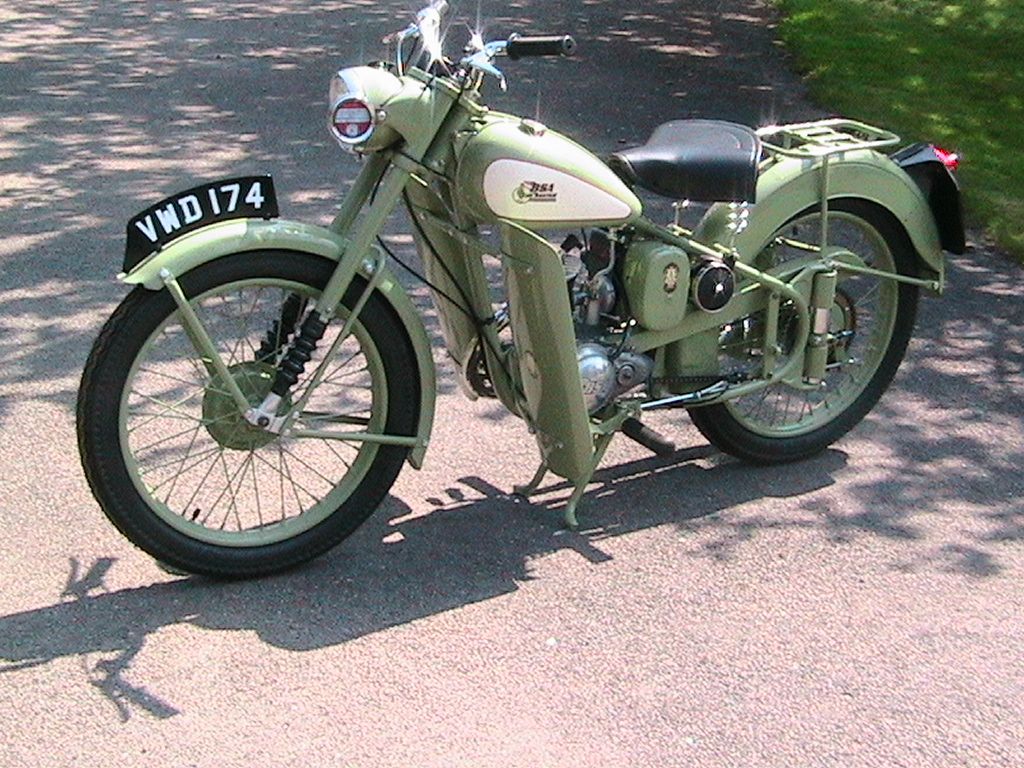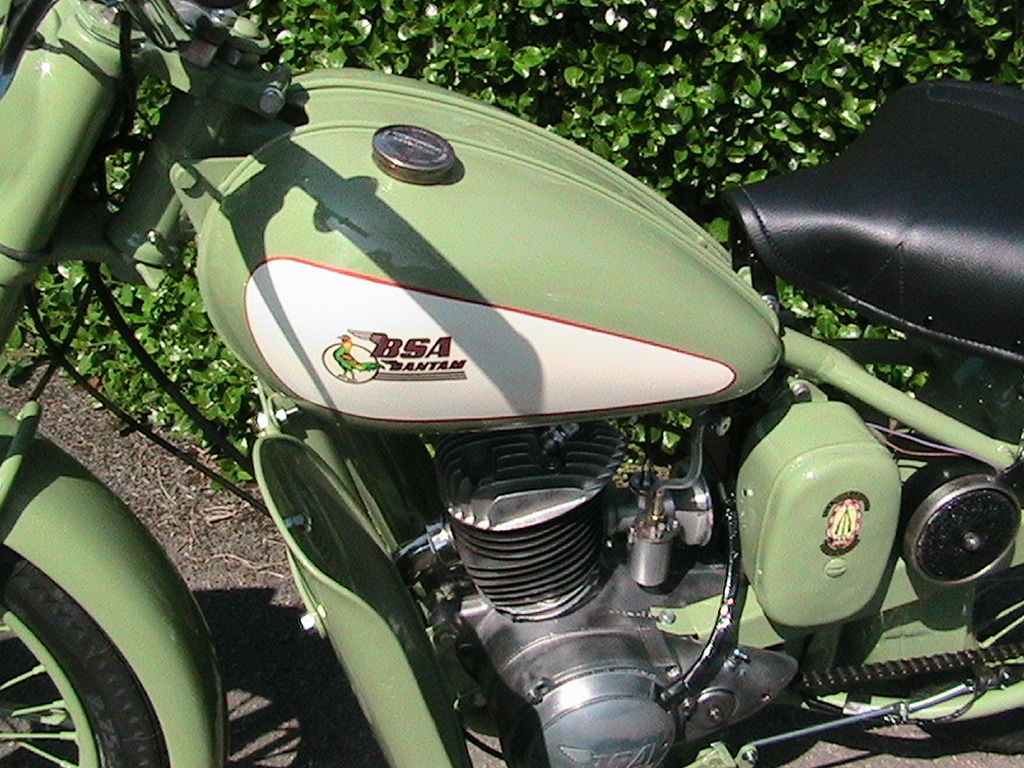 May I take this opportunity of thanking all those members who offered help and advice, and the suppliers Bournemouth Bantams, Rex Caunt, Lightning Spares and Charles Field.
Richard.
Anderzander
Lancashire
Forum Posts: 3208
Member Since:
October 29, 2011
Offline
 Wow, you've really done it to a great standard.
Thanks for the write up
Doug Brown
Wiltshire
Forum Posts: 979
Member Since:
October 8, 2011
Offline
itma
baker man
..llandudno conwy wales
Forum Posts: 727
Member Since:
October 23, 2011
Offline
wow, what a restoration, superb!! ...one little thing extra though, a gold pin stripe above the red on the tank would just be the iceing on the cake!! ....nice!!
....D5..D7.......2X tiger cubs..2x 3ta..t120 bonnie..t140 bonnie..350 enfield..500 enfield..excelsior consort..bantam bleeder ( leader engine )
baker man
..llandudno conwy wales
Forum Posts: 727
Member Since:
October 23, 2011
Offline
Hi Richard, yes you are right, as from november my d5 and one of my 3ta's will not need an mot...wow ! no mot, free tax , and classic insurance, classic bikeing never looked better!!!
....D5..D7.......2X tiger cubs..2x 3ta..t120 bonnie..t140 bonnie..350 enfield..500 enfield..excelsior consort..bantam bleeder ( leader engine )
D7-Silver
Forum Posts: 741
Member Since:
October 19, 2011
Offline
Forum Timezone:
Europe/London
Most Users Ever Online: 223
Currently Online:
14 Guest(s)
Currently Browsing this Page:
1 Guest(s)
Top Posters:
Cornish Rooster: 3314
Anderzander: 3208
bart: 3142
cocorico: 2865
Sprung Chicken: 2650
Mags 1: 2617
David Dale: 2490
Munchkin: 2223
Blue Heeler: 2139
Katj: 2138
Forum Stats:
Groups: 9
Forums: 46
Topics: 11855
Posts: 101757
Member Stats:
Guest Posters: 518
Members: 3178
Moderators: 2
Admins: 3
Administrators: Piquet, JMD, Rusty Floater